Lightweight camping with a pop-up roof
With the Kompakt you hit the road with extra comfort. Without compromising on the feeling of adventure, freedom and outdoor life.
2 adults (Travel version +1 child)

Max. permitted mass from 1000 kg

570 cm x 183 cm x 225 cm (LxWxH)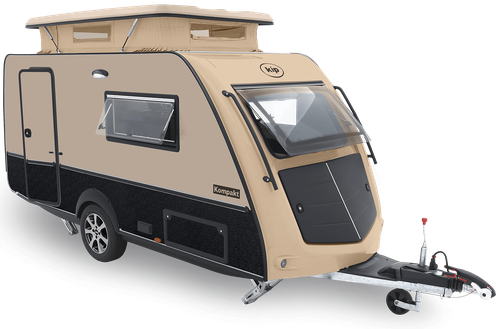 Highlights
This compact caravan is small enough to be driven carefree, but just big enough to be fully equipped. You decide whether you cook inside or outside, with the gas and water connections on the outer wall.
Only 183 cm wide
Can be towed by almost all cars without special (caravan) mirrors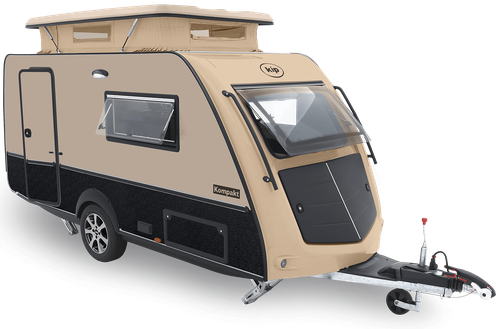 Outer wall connection for gas and water
Simple outdoor cooking with the standard outer wall gas and water connection
Optimal living space
The Kompakt is practically equipped with all amenities.
Sleeping comfortably
In the Kompakt you have a spacious double bed. During the day you simply turn the footboard into a 2 person seat, or you turn it into a table with spacious seating for up to 6 people. The Travel version also has an extra seat (or guest bed) at the back.
Indoor or outdoor cooking
The Kompakt has a fully equipped kitchen with a 3-burner cooker and a 70 litre refrigerator. Prefer to cook outside? Simply connect an outdoor kitchen to the outdoor gas connection.
Storage everywhere
When travelling compact, you don't want to be constantly searching for your stuff or living in clutter. That's why the Kompakt has plenty of storage space. Think of the overhead lockers, hatches under the seats (also accessible from outside with a luggage hatch) and, depending on the model, a (high) standing cabinet.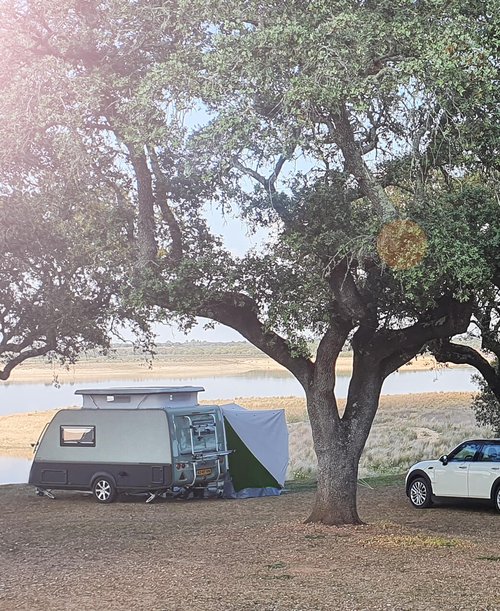 Perfect driving characteristics
At 183 cm the Kompakt is narrower than most cars. This means you have an optimal view of the road without having to use extra side mirrors.
Because of the pop-up roof the caravan is also only 225 cm high behind the car, which makes for better aerodynamics. This makes the extra fuel consumption very low and is therefore also optimal for electric cars. As an added advantage the Kompakt also fits under most carports when the pop-up roof is closed.
This caravan is also a real lightweight, starting at 790 kg unladen weight. This makes driving a pleasure.It doesn't matter if you drive on our fast flat roads or through a steep mountain village.

Polar blue
Safari
Green
White

Polar blue
Safari
Green
White

Polar blue
Safari
Green
White

Polar blue
Safari
Green
White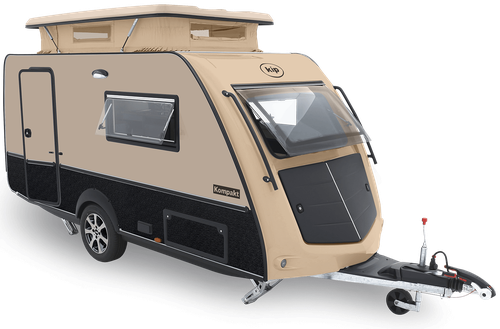 Kompakt Travel

Centre kitchen

Version with additional seat in the rear and kitchen in the middle

Kompakt Adventure

End kitchen

Version with kitchen in the rear, fixed toilet and high cupboard