Adventurous camping in a small caravan
The Shelter lives up to its name. A compact caravan with a big heart, characterised by practical design and a unique appearance
Max. permitted mass from 750 kg

460 cm x 185 cm x 219 cm (LxWxH)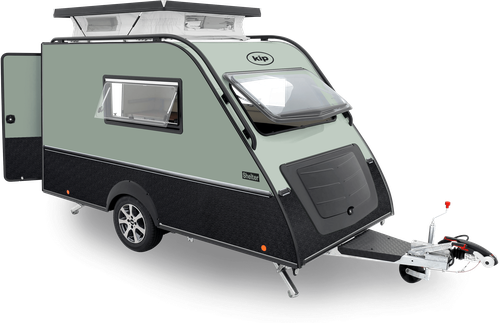 Shelter highlights
Do you cook inside or outside? Sit inside with up to 6 people, or sleep in the spacious 170x200cm bed? This small caravan can be adapted to any situation thanks to its smart design
Headroom of 198 cm
With the pop-up roof unfolded, the headroom is 198 cm.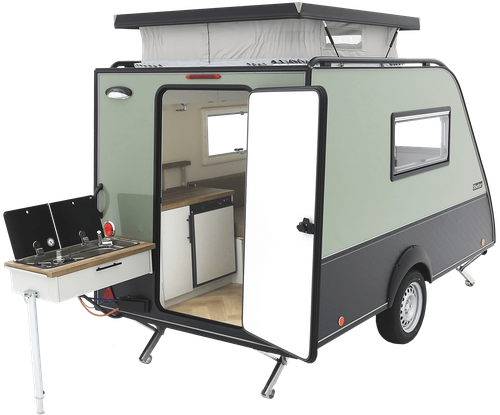 Indoor/outdoor kitchen
You can easily move the kitchen from inside to outside. You decide where you cook!
Fit for any adventure
Spacious seating
Comfortable dining at the table or stretched out on the sofa. It is all possible. The large front window (Shelter Plus) and the side windows give you a spacious view. But also privacy through the integrated blackout blind and mosquito net.
Sleeping in comfort
Nowhere does it sleep better than in the middle of nature. After a good night's sleep in the generous 170 x 200 cm bed in this small caravan, you are ready for a new day of adventure.
Option: top table
With the optional top-up table, you have the best of both worlds: a wonderful seat with a rotating table and your bed can stay made up!
Plenty of storage space
Out of sight, there is plenty of storage space. Think of the overhead lockers, the space under the seats and the locker at the entrance (with space for a mobile toilet).
Indoor and outdoor cooking
Mobile kitchen unit
At your destination, you can easily move the kitchen outside to cook in the open air. Outside, the flexible tap can be used for the sink or as a shower.
Small but complete
The kitchen unit is equipped with a cutlery drawer, gas cooker with 2 large gas burners and a sink. The 60 litre refrigerator gives you enough space to keep everything cool.
Safari
Polar blue
Green
White
Silver

Safari
Polar blue
Green
White
Silver

Safari
Polar blue
Green
White
Silver

Safari
Polar blue
Green
White
Silver

Safari
Polar blue
Green
White
Silver
Plus

Fully equipped for carefree travel. You cook inside or out with the easily movable kitchen. Extra comfort with the (standard) underfloor heating

Outback

Off-grid camping

A tough 'off-road look'. Raised and weighted chassis with sidebars and Outback wheels, tinted windows with premium screen and blackout, compressor fridge, solar panels with lithium battery and more

Basic

Only equipped with the minimum, so you can decide what to take with you