Full of adventure!
The Shelter Outback stands for self-sufficient (off-grid) camping with a cool look. This unique Outback edition breathes adventure in everything and comes standard full of options for off-grid camping. Ready for adventure!
raised and weighted chassis

load capacity up to 1000 kg

460 cm x 194 cm x 222 cm (LxWxH)
Outback highlights
With the Outback, everything is different from the start. This is because the Outback has a fully raised and weighted chassis. Besides an extra robust undercarriage, you also stand extra stable with bigfoot stability feets. The sidebars and roof rails protect the Outback and give it an adventurous and tough look.
Darkened windows
darkened flat windows all around give a cool and chic look. You also have more privacy and extra protection from the sun UV.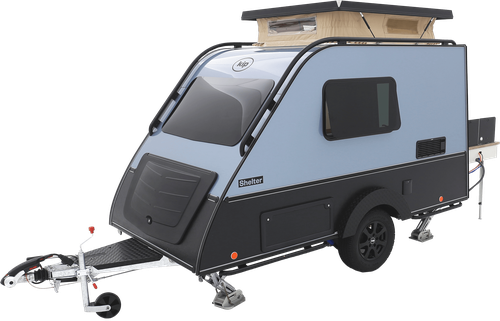 Unique chassis
it gives you more ground clearance, ride comfort and a cooler look
Experience the ultimate adventure with off-grid camping
Looking for freedom and adventure? Go off-grid!
For many people, the word 'adventure' is enough to make their heart beat faster. If you are adventurous and looking for ultimate freedom, off-grid camping is something for you. This form of camping is self-sufficient and often takes place far from civilisation. Choose a camping spot in the middle of nature and completely disconnect from your daily routine.
Shelter Outback: off-grid with comfort
Do you want to combine adventure with comfort? Then meet the Shelter Outback. This model is specially designed for (off-grid) campers who like the freedom to go wherever they want. The Shelter Outback has a robust look and a smart layout that breathes adventure into everything. Moreover, this model comes standard full of options for off-grid camping.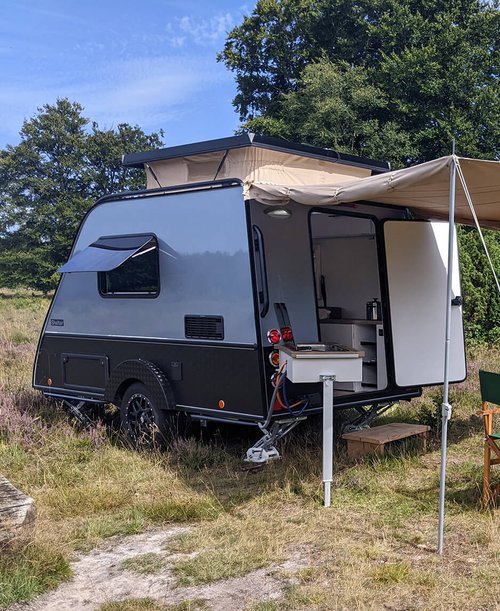 Shelter Outback
Gaan en staan waar je maar wilt
Als off-grid kampeerder kom je met de Shelter Outback op de meest unieke plekken. De stoere 'offroad-uitstraling' gaat namelijk verder dan de in het oog springende wielen, sidebars en buishandgrepen. De Outback heeft namelijk een volledig verhoogd en verzwaard onderstel met bigfoot uitdraaisteunen en alle ramen zijn geblindeerd.
Comfortabel back to basic
Kamperen in comfort was nog nooit zo eenvoudig als met de Shelter Outback. De caravan is uitgerust met een zuinige en krachtige compressorkoelkast, een vernieuwd donker raamsysteem voor extra privacy en bij alle ramen een premium hor en verduistering. De stroomvoorziening regel je helemaal zelf; zo check je de opbrengst van de zonnepanelen op het dak, het verbruik van je elektronica én de status van je lithium accu eenvoudig op je telefoon. Dit is slechts een greep uit de vele functies van de Shelter Outback.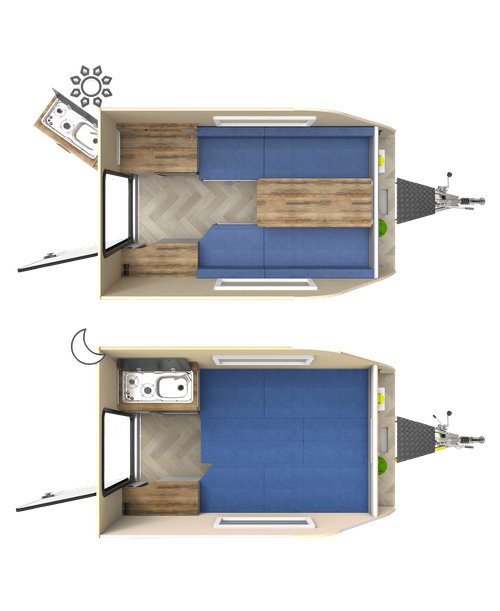 Tough on the outside, spacious on the inside
Waking up in nature
Nowhere sleeps better than in the middle of nature. After a wonderful night's sleep in the spacious bed of the Outback, you are ready for a new day full of adventure.
Space and design
There is plenty of room for all your clothes and outdoor gear in the practical layout. And with the pop-up roof, you have plenty of freedom of movement and standing height. Plus, the design brings the outdoors inside with a unique wood design interior with herringbone floor.
In addition to all the practical things, the Outback interior naturally has the indoor/outdoor kitchen, floor heating and space for a mobile toilet in the low cabinet. Enjoy extensive comfort while retaining the pure camping feeling.
Standard equipment Shelter Outback
Weights
Delivery weight: Outback 660 kg
Payload: Outback 340 kg
Maximum permitted mass 1000 kg.
Outside
Raised chassis
Sidebars
Weighted chassis, up to 1000 kg
Darkened windows all round for privacy and looks
Blinded opening side windows
Bigfoot stability feets
Roof railing
Rear pipe handles
Black tent rails an…
Weights
Delivery weight: Outback 660 kg
Payload: Outback 340 kg
Maximum permitted mass 1000 kg.
Outside
Raised chassis
Sidebars
Weighted chassis, up to 1000 kg
Darkened windows all round for privacy and looks
Blinded opening side windows
Bigfoot stability feets
Roof railing
Rear pipe handles
Black tent rails and drawbar cover
Inside
Indoor/outdoor kitchen
Compressor fridge 65L
Roof lift with 1.98 m headroom
Floor heating
Opening side windows
Premium insect screen and blackout blind
Wood design interior
Gas and water pipes
Cabinets divider and additional kitchen drawer
230V and 12V electrical circuit
Folding bench
Energy (management)
Solar panels 2x50W
20Ah lithium battery
Smartshunt battery monitor