Outdoor living with indoor comfort
The Vision is our largest pop-up roof caravan. You camp with all the comforts and still retain the advantages of a pop-up roof: compact, lightweight and aerodynamic.
Max. permitted mass from 1200 kg

594 cm x 210 cm x 230 cm (LxWxH)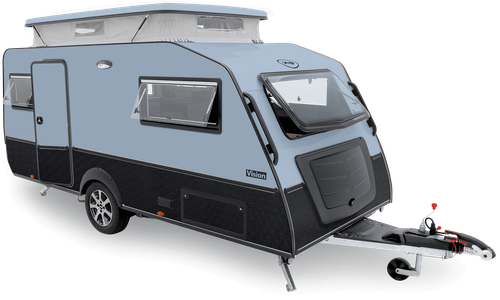 Highlights
Due to its discreet size, the Vision can still be towed by many cars and, with its pop-up roof retracted, it fits easily under most carports.
Headroom 203 cm
With the pop-up roof you create a lot of space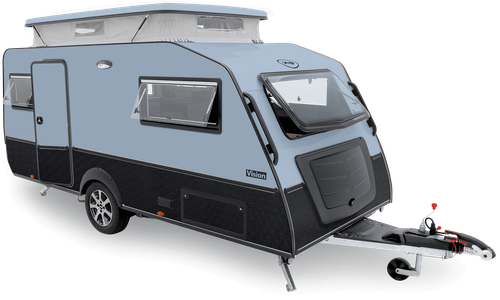 Outer wall connection for gas and water
Simple outdoor cooking with the standard outer wall gas and water connection
Fully equipped camping
The Vision does justice to the feeling of camping. Whether you are driving along rustic country roads in Italy or exploring the Norwegian fjords, with the Vision everything is possible.
With the pop-up roof open, a headroom of 203 centimetres is created and with that a spacious stay. The Vision is equipped with a stylish and practical interior. A large assortment of space in the form of cabinets, drawers and shelves ensures that all your stuff is stored in an orderly manner. The generous interior makes the Vision suitable for comfortable camping in all seasons.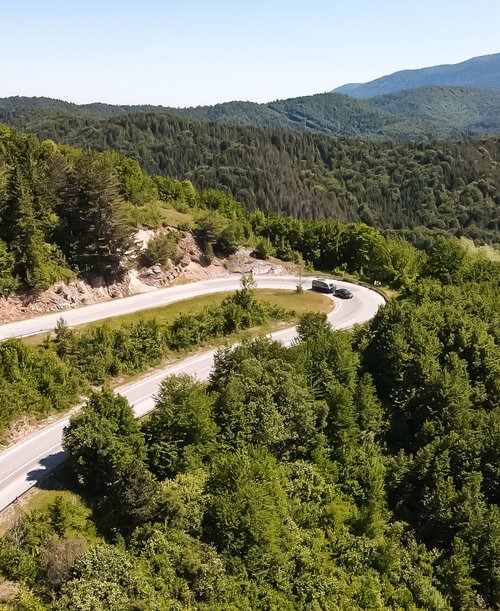 Perfect size
With a closed pop-up roof, this caravan becomes very compact behind the car, while you have unprecedented interior space when camping.
The sloping front and folded pop-up roof not only increase aerodynamics, but also significantly reduce unladen weight. This makes driving the Vision not only pleasant, but also saves fuel and range.
Polar blue
Green
Safari
White

Polar blue
Green
Safari
White

Polar blue
Green
Safari
White

Polar blue
Green
Safari
White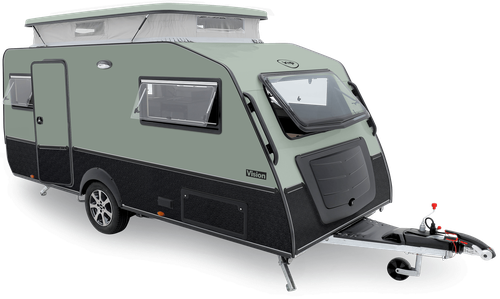 Vision Travel

Centre kitchen

Version with additional seat in the rear and kitchen in the middle

Vision Adventure

End kitchen

Version with kitchen in the rear, fixed toilet, centre seat and double fixed bed

Vision Outback

Self-sufficient camping

A tough off-road look, unique indoor/outdoor experience with a large opening tailgate, extendable outdoor kitchen, outdoor shower, special outdoor table and a comfortable fixed bed.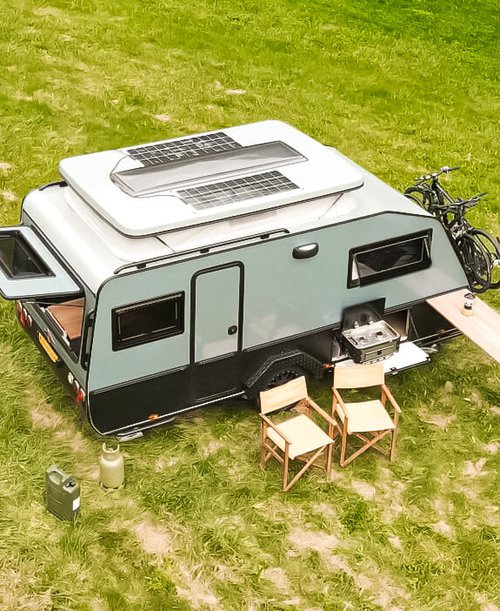 Vision Outback
Self-sufficient camping
The Vision Outback stands for self-sufficient (off-grid) camping. The tough 'off-road look' goes beyond the eye-catching Outback wheels, sidebars and big handles. This is because the Outback has a fully raised and weighted chassis with bigfoot outriggers, extra luggage hatches and all windows are blinded.
Maximum comfort full of options
Experience a maximum indoor/outdoor experience, with a large opening rear hatch, pull-out kitchen, outdoor shower and dedicated outside table. At night, enjoy a comfortable fixed bed with luxury mattresses. On site, you have maximum comfort including an economical and powerful compressor fridge, hot water boiler, renewed front window with unique privacy glass and premium screens and blinds on all windows. You control the power supply all by yourself; you can easily check the power of the solar panels on the roof, the consumption of your electronics and the status of your lithium battery on your phone. Discover these and many more features in the standard feature-packed Vision Outback.