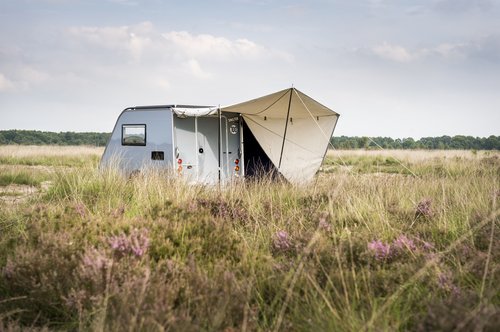 Privacy policy
Kip Caravan attaches great importance to the protection of your personal data. In this Privacy Policy, we wish to provide clear and transparent information on how we deal with personal data.
We do everything in our power to guarantee your privacy and therefore handle personal data with care. Kip Caravan will always comply with applicable laws and regulations, including the General Data Protection Regulation.
This means that we will in any event:
Process your personal details in accordance with the purpose for which they were provided; these purposes and types of personal details are described in this Privacy Policy;
The processing of your personal data is limited to only those details that are minimally necessary for the purposes for which they are processed;
Ask for your permission if we need this for the processing of your personal data;
Have taken appropriate technical and organisational measures to ensure the security of your personal data.
Not pass on personal data to other parties, unless this is necessary for the execution of the purposes for which they were provided;
Inform ourselves about your rights regarding your personal data, point out these rights and respect them.
As Kip Caravan we are responsible for processing your personal details. If, after reading our Privacy Policy, or in a more general sense, you have any questions about it or wish to contact us, please use the contact details at the bottom of this document.
Kip Caravan is committed to protecting your privacy and developing technology that gives you the most powerful and safe online experience. This Statement of Privacy applies to the Kip Caravan Web site and governs data collection and usage. By using the Kip Caravan website, you consent to the data practices described in this statement.
Collection of your personal data
Kip Caravan collects personally identifiable information, such as your e-mail address, name, home or work address or telephone number. Kip Caravan also collects anonymous demographic information, which is not unique to you, such as your ZIP code, age, gender, preferences, interests and favorites.
There is also information about your computer hardware and software that is automatically collected by Kip Caravan . This information can include: your IP address, browser type, domain names, access times and referring Web site addresses. This information is used by Kip Caravan for the operation of the service, to maintain quality of the service, and to provide general statistics regarding use of the Kip Caravan Web site.
Please keep in mind that if you directly disclose personally identifiable information or personally sensitive data through Kip Caravan public message boards, this information may be collected and used by others. Note: Kip Caravan does not read any of your private online communications.
Kip Caravan encourages you to review the privacy statements of Web sites you choose to link to from Kip Caravan so that you can understand how those Web sites collect, use and share your information. Kip Caravan is not responsible for the privacy statements or other content on Web sites outside of the Kip Caravan and Kip Caravan family of Web sites.
Use of personal information
Kip Caravan collects and uses your personal information to operate the Kip Caravan Web site and deliver the services you have requested. Kip Caravan also uses your personally identifiable information to inform you of other products or services available from Kip Caravan and its affiliates. Kip Caravan may also contact you via surveys to conduct research about your opinion of current services or of potential new services that may be offered.
Kip Caravan does not sell, rent or lease its customer lists to third parties. Kip Caravan may, from time to time, contact you on behalf of external business partners about a particular offering that may be of interest to you. In such cases, your personal data (e-mail, name, address, telephone number) will not be disclosed to third parties. In addition, Kip Caravan may share data with trusted partners to help us perform statistical analysis, send you email or postal mail, provide customer support, or arrange for deliveries. All such third parties are prohibited from using your personal information except to provide these services to Kip Caravan, and they are required to maintain the confidentiality of your information.
Kip Caravan does not use or disclose sensitive personal information, such as race, religion, or political affiliations, without your explicit consent.
Kip Caravan keeps track of the Web sites and pages our customers visit within Kip Caravan, in order to determine what Kip Caravan services are the most popular. This data is used to deliver customized content and advertising within Kip Caravan to customers whose behavior indicates that they are interested in a particular subject area.
Kip Caravan Web sites will disclose your personal information, without notice, only if required to do so by law or in the good faith belief that such action is necessary to: (a) conform to the edicts of the law or comply with legal process served on Kip Caravan or the site; (b) protect and defend the rights or property of Kip Caravan; and, (c) act under exigent circumstances to protect the personal safety of users of Kip Caravan, or the public.
Security of you personal information
Kip Caravan secures your personal information from unauthorized access, use or disclosure. Kip Caravan secures the personally identifiable information you provide on computer servers in a controlled, secure environment, protected from unauthorized access, use or disclosure. When personal information (such as a credit card number) is transmitted to other Web sites, it is protected through the use of encryption, such as Secure Socket Layer (SSL) technology.
Change of statement
Kip Caravan will occasionally update this Statement of Privacy to reflect company and customer feedback. Kip Caravan encourages you to periodically review this Statement to be informed of how Kip Caravan is protecting your information.
Contact information
Kip Caravan welcomes your comments regarding this Statement of Privacy. If you believe that Kip Caravan has not adhered to this Statement, please contact Kip Caravan via our contact form. We will use commercially reasonable efforts to determine and remedy the problem promptly.
Cookies
When you visit our website, we may store information on your computer in the form of cookies. Cookies are small files that are sent to your browser from an Internet server and stored on your hard drive. The legal basis for the use of cookies is Art. 6 par. 1 lit. f of the General Data Protection Act (AVG). Only the internet protocol address is stored; no other personal data is captured. The information stored in the cookies allows you to be recognised automatically the next time you visit our website, which makes it easier to use.
Of course you can also visit our website without accepting cookies. If you do not want your computer to be recognised the next time you visit, you can also refuse the use of cookies by changing the settings in your browser to 'Refuse cookies'. The steps to do this can be found in the instructions for your browser. However, refusing the use of cookies may restrict the use of some parts of our websites.
Google Tag Manager
This website uses Google Tag Manager. The Tag Manager does not register personal data. The tool activates other tags, which themselves sometimes register data. Google Tag Manager has no access to this data. If it is deactivated at the domain or cookie level, it remains active for all tracking tags implemented with Google Tag Manager. Google's data protection policy for this tool can be found here: https://www.google.com/analytics/terms/tag-manager/
Google Analytics with anonymisation function
On our website, we use Google Analytics, a web analytics service provided by Google Inc., 1600 Amphitheatre Parkway, Mountain View, CA 94043 USA - hereafter "Google". Google Analytics uses "cookies", which are text files placed on your computer, to help the website analyse how users use the site.
The information generated by these cookies, such as the time, place and frequency of your visit to our website (including the shortened IP address), is usually transferred to a Google server in the USA and stored there.
On our website, we use Google Analytics with the extension "_gat._anonymizeIp". In this case, your IP address is truncated by Google beforehand in member states of the European Union or in other contracting states of the Agreement on the European Economic Area and anonymised in this way.
Google will use this information to evaluate your use of our website, to compile reports on website activity for us and to provide other website and internet related services. Google may also transfer this information to third parties where required to do so by law, or where such third parties process the information on Google's behalf.
Google will not associate your IP address with any other data held by Google. You may refuse the use of cookies by selecting the appropriate settings on your browser, however please note that if you do this you may not be able to use the full functionality of this website.
Google also offers a deactivation add-on for the most common browsers, which gives you more control over what data Google records about the websites you visit. The add-on informs JavaScript (ga.js) from Google Analytics that no information about visits to the website may be passed on to Google Analytics. However, the Google Analytics browser deactivation add-on does not prevent information from being passed on to us or to other web analysis services that we may use. Further information on the installation of the browser add-on can be found at the following link: https://tools.google.com/dlpage/gaoptout?hl
If you visit our website via a mobile terminal (smartphone or tablet), please click on this link to avoid tracking by Google Analytics for this website in future. This is also an alternative to the above browser add-on. By clicking on the link, a web store is placed in your browser which is only valid for this browser and that domain. Clearing the webstores in this browser will also clear the opt-out cookie, so you will have to click on the link again.
If you have agreed to your web and app browser usage being linked by Google to your Google Account and information from your Google Account being used to personalise advertising, Google will use your data together with Google Analytics data to create lists of target groups for cross-device remarketing. For this purpose, Google Analytics first captures your Google-authenticated ID on our website, which is linked to your Google account (i.e. personal data). Thereafter, Google Analytics temporarily links your ID with your Google Analytics data in order to optimise our target groups.
If you do not agree with this, you can prevent it with the corresponding settings in the "My account" area of your Google account.
Google Ad Services / Google AdWords Conversion Tracking
This website uses online marketing tools from Google Inc., 1600 Amphitheatre Parkway, Mountain View, CA 94043, USA. This makes it possible to recognise that a visitor has arrived at our website via a Google advertisement. Google uses cookies which are stored on your computer and enable an analysis of the use of the website. The cookies for the so-called "conversion tracking" are placed when you click on an advertisement placed by Google. These cookies expire after 30 days and are not intended for personal identification. If you want to avoid conversion tracking cookies, you can set your browser to block cookies from the domain "googleadservices.com". You also have the right to opt-out. If you want to learn more about these methods or know your options to prevent Google from using this information, click here: https://www.google.com/settings/u/0/ads/authenticated
Facebook Custom Audiences Pixels
In order to show visitors to our website advertisements adapted to their interests during a visit from Facebook, we use Custom Audiences Pixel from Facebook Inc., 1601 S. California Ave, Palo Alto, CA 94304, USA ("Facebook"). For this purpose, we have implemented a Facebook pixel on our website, which establishes a direct connection to the servers of Facebook when visiting our website. This sends information to the Facebook server that you have visited our website and Facebook assigns this information to your personal Facebook account. For further information on the collection and use of data by Facebook and your rights and options for protecting your privacy, please visit Facebook's data protection information at https://www.facebook.com/about/privacy/.